10.11.2005
Ahmedabad is about 300km north of Mumbai. The train journey was okay, but a little scary at first. We shared our compartment with an Indian family who were travelling to Ahmedabad to visit a temple.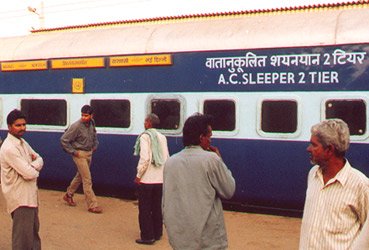 Outside view of the train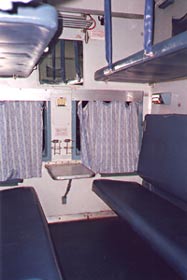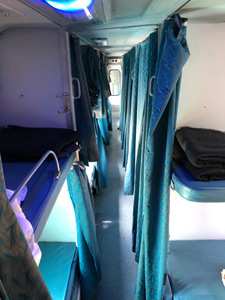 Inside the train
Ahmedabad is scarier than Mumbai, mainly because very few people speak English. When we arrived, a taxi driver took us to the wrong hotel (one he was probably on comission for), but we eventually got him to take us to the correct one. We have a nice air conditioned room with TV, and room service bring me up a big pot of tea for about 15 pence.
In the evening, we went to a local place to eat, and had a fantastic 20 dish meal in fantastic settings for about the price of a coffee in starbucks. Waiters came from every corner of the room, and within a few seconds, our table was covered with the colours and smells of India. Some pictures to follow...

We went on a long walk around the city last night, got hopelessly lost but thankfully managed to find an autorickshaw driver who took us back to the cinema (it was the only place he understood), and we walked home from there.
We haven't seen a single other white person in town, and the locals seem shocked to see us. Women scowl at Tabi when she walks past, and the men do nothing but stare. That said, there's no shortage of people wanting to try and help us. We only have to glance at the guide book and we'll immediatly be surrounded by people offering their help. As they can't speak English, and we can't speak Gudgerat it tends to confuse more than help.
In news from back home, I just learnt that Porism came 17th in the Deloitte awards for the 50 fastest growing technology companies. This is up from 35/36th last year, I tried to have a drink to celebrate, but this is a no alchol state...


Gerald and Mike from Porism with Paul Ross, collecting the award